Newly developed 82 & 84 endurance race compounds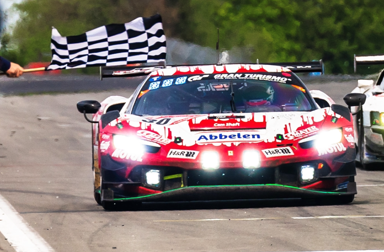 82 compound is the new standard for PFC endurance compounds. It has gained an immediate following upon release in the endurance sportscar world after its debut win in the 2023 24hrs of Nürburgring. The 82 is a degressive pad specifically designed to work together with ABS to give superior control and a smooth release, minimizing lockups. The 82 compound has an extremely low wear rate while simultaneously being extra gentle on discs, making this compound the ultimate endurance option. Long distances aren't this pad's only strong suit though – with a very high initial bite, this pad can also be used for medium distance sprint applications, where ABS compatibility and a low wear rate are required. The 82 compound was developed by working closely with experienced teams and drivers to ultimately tailor this pad to have the perfect combination of durability and speed.
New 84 rear endurance compound
84 compound is the newest rear endurance compound in the PFC lineup. It shook the endurance sportscar world when it took its first win upon release at the 2023 24hr of Nürburgring. This pad is heavily degressive to work together with modern ABS systems, providing a stable, controllable rear end and minimized lockups. Its high initial bite allows this pad to not only be the perfect low wear endurance option, but also can be used in medium distance applications. Like its front counterpart (82) the 84 compound has an extremely low wear rate, while being gentle on discs. All of this, paired with superior modulation creates a pad that finds its home in being very durable, and extremely quick! It was developed alongside experienced teams and drivers to create a compound that sets a new standard in speed for the endurance sports car world.