F4 SPAIN LAST RACE AT  BARCELONA CIRCUIT.
Excellent last race championship for the F4 Spanish Championship with 20 drivers on the grid and really competitive races. This international championship with races in different countries: Spain, France and Portugal, International teams such as MP motorsport, Jenzer , Drivex, ….. and drivers from 11 different countries. This is the F4 championship with more progression and really good expectations for 2020 season.
The champion of the F4 Spain is from Argentina, the super talented Franco Colapinto who dominates consistently the championship. Second was the Dutch Gienn Van Berlo and third the Spaniard Killian Meyer.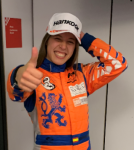 Meanwhile, the most exciting moments were in the closed duel between Belén García (Global Racing Service) and Nerea Martí (Formula of Champions – Prague), who until the last race defined the title of the female category.  Nerea was 4th overall during a lot of last race laps. The title is for Belén García. Both of them race in the W Series next season.
PFC BRAKES is very proud to be the F4 Series brake suppliers. Teams and drivers are really happy with the excellent performance and consistency of our brakes!!
Thanks F4 Spanish Championship and we will see you again all  in 2020 season!! F4 Spain newsletter