PFC motorsport brake discs
Performance Friction's discs are recognised worldwide as the very best available, and have won hundreds of championships around the world. PFC delivers quality and consistency you can bet your race on.
Ever since the disc brake was invented vibration and pulsation caused by thermal expansion (warped discs) has been a major issue. Until now …
With PFC's two-piece floating Direct Drive disc assemblies, the disc flange floats in the fitting structure, allowing radial and axial expansion of the disc without being constrained by the hub or hat.  Years of R&D and thousands of race miles have resulted in the development of PFC's patented Direct Drive systems. Click here for details on searching for PFC discs to suit your application.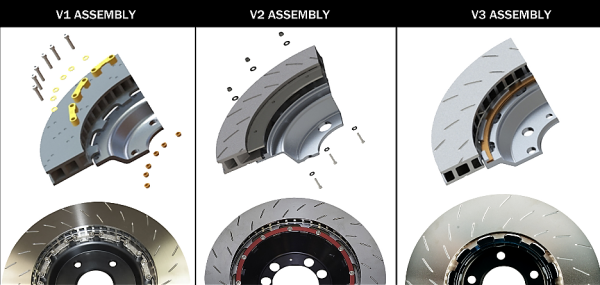 Direct Drive V1 uses a saddle bobbin as part of the mounting.
Direct Drive V2 is an integral drive in hat system and is a second generation disc mounting system designed to enhance the Z-Rated Big Brake kits by reducing the number of components and overall disc assembly weight.
Direct Drive V3 is the very latest generation mounting system that uses a spiral locking ring that connects the disc to the hat. This allows much faster fitting without the need for tools or fixings, and producing even less overall weight.