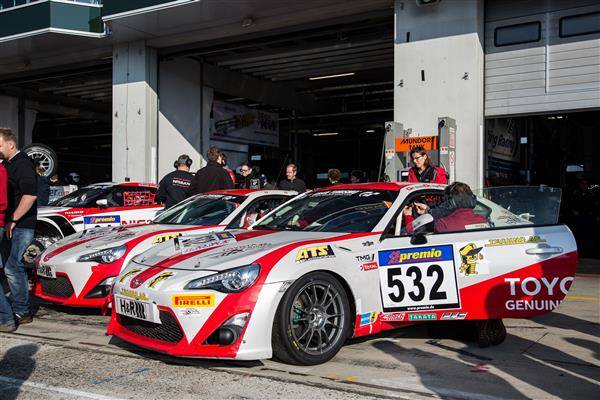 PFC Brakes are suppliers to the GT86 Cup run by Toyota Motorsport GmbH.
Click here for details about brake pads for your Toyota GT86.
Toyota Motorsport GmbH (TMG) has selected leading manufacturer PFC Brakes to supply brake pads to its successful GT86 race car. The 200 bhp rear wheel drive car offers drivers a competitive and cost-controlled entry for the VLN Endurance Series and Nürburgring 24 Hour race that are held on the Nordschleife, where PFC Brakes already equips close to 40 percent of the 180+ car entries.
All GT86 CS-V3 race cars will run PFC Brakes' legendary Carbon Metallic matrix material pads in the VLN and N24 events. Thanks to its unique six layer structure, PFC Brakes' pads deliver better thermal stability and a firmer pedal with bite from cold. Equally crucial for the longer races that make up the VLN Series, PFC Brakes' pads offered better durability and performance over a wide temperature range, providing drivers with confidence to lean hard on the brakes throughout the race distance.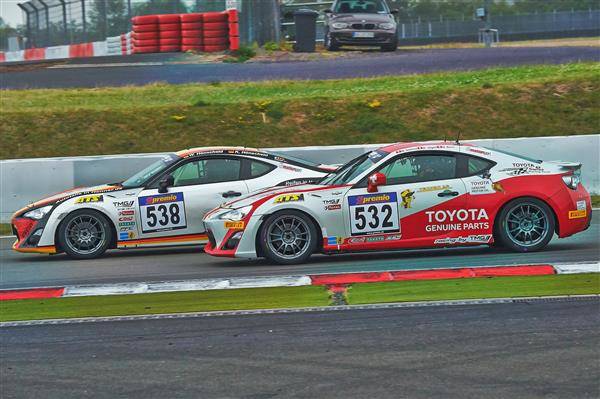 "The TMG GT86 race car is an entry level race car and as such, it requires a brake system that will inspire confidence in drivers of all abilities," says PFC Brakes Europe's managing director Peter Babbage. "The Carbon Metallic friction material, already a proven winner at the Nürburgring, has a wide operating temperature range, making it ideally suited to the variable weather and temperatures experienced on the Nordschleife. The higher thermal threshold of our Carbon Metallic pads ensures lower wear rates too, making them ideal for VLN and other endurance championships. It's why we supply around 40 percent of the VLN entrants; from the pure race GT3 cars through to the production-based sports cars that make up so much of the field."
TMG is the latest in a growing list of vehicle manufacturers, including Porsche and Renault to realise the benefits of PFC Brakes' technology for their one make race and rally cars. As well as comprehensive technical support in Europe and excellent local stock levels, all PFC Brakes pads are free from copper, asbestos, lead and chromium.