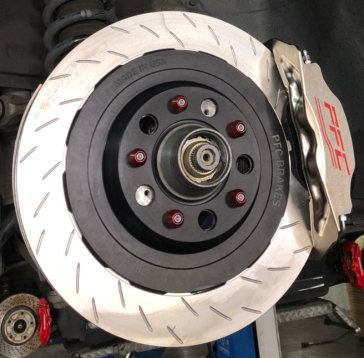 Front & rear brake kit – Porsche 996 / 997 / 991 / 992 Turbo including PCCB and some 4WD versions including Carrera 4 & 4S
Slotted trackday / race 380 x 34mm front / 380 x 30mm rear disc assemblies
Please send wheel fitment information before ordering.
There can be clearance issues with some profiles.
PFC high performance brake kits include:
• Forged ZR95 6-piston front caliper • Forged ZR96 4-piston rear caliper • Direct Drive V3 discs on alloy hats • Race-specification brake pads • Custom-engineered for race and track use • Genuine race technology • Caliper fittings
PFC kits offer the best braking performance available, along with great looks!
PFC ZR95 and ZR96 ZERO DRAG™ calipers:
Forged aluminium with metallurgy specified for high strength and stiffness at elevated temperatures
High stiffness
Electro-less Nickel plating
Hard anodized aluminium pistons with patented insulators, and cross drilled titanium caps
Race proven ZERO DRAG™
Race proven durability
PFC patented V3 disc assemblies:
V3 technology (retaining ring disc retention)
Reduced weight, complexity, and installation time
Anti-rattle for street or full float for race
Direct drive to lightweight aluminium hats
PFC metallurgy specified
Race proven strength and durability
48 vane geometry

Better cooling
High thermal stability
High mechanical strength

Flange geometry

Reduces thermal mechanical stress

Patented slot pattern

Pad cleaning action
Increase initial bite
Does not create disc crack propagation
Brake disc hats:
High strength forged aluminium
Black hard-anodized
High manufacturing precision
CarbonMetallic® pads:
Low compressibility
High modulation
High heat capacity (fade resistance)
Meets all copper free initiatives

991T 991-Turbo-PCCB 996T 997T C4S 991.1 991.2 road