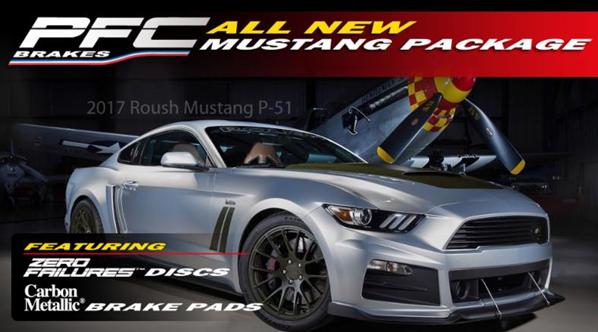 Developed for the Roush P-51 Mustang:
PFC Brakes has had a long standing relationship with Ford and the Roush brand for nearly two decades. PFC has developed OEM friction for some of Ford's heaviest braking vehicles such as the Boss 302 to the Ford Taurus & Explorer Interceptor police cars of late. PFC & Ford have been synonymous with one another in the racing community who utilize our full range of braking components in every series ranging from NASCAR to IMSA, Continental Tire Series, Pirelli World Challenge, SCCA and grassroots club series around the world.
PFC Brakes was thrilled to be a part of the all new Roush P-51 project which has been crowned the most powerful muscle car on the planet! While the OEM components are highly respectable for their thermal capacity and performance, this build was going to require a few tweaks to ensure optimum performance.
We started with development of a new cutting edge CarbonMetallic® brake pad formulation to give the absolute best performance under repeated heavy braking while maintaining low dust and noise characteristics to help keep the P-51's beautiful forged Weld Wheels clean.
In an effort to lower weight and increase effective performance we also outfitted the P-51 with 378mm front & 330mm rear patented V3 ZeroFailures™ rotors. Considered one of the most revolutionary rotor designs in recent history, these discs provide significantly lower rotating weight with increased thermal efficiency allowing the ability to dominate the street, track or strip!
Stopping power for any speed ….. click here to learn more!