Motorcycle brake pads
13 compound – Maximum bite and maximum torque
13 compound is the choice for riders who desire maximum braking performance and torque. 13 has the highest initial bite of all PFC bike compounds combined with a progressive torque rise with temperature. Initial bite is managed along with feel and control, so that the suspension is not upset. This allows a smoother transition between the brake and throttle.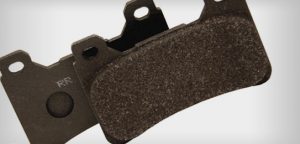 99 compound – High bite and torque
This has a slightly higher bite and higher torque than the 95 compound with excellent release. Improved modulation throughout its range with a flat torque curve. 99 compound works well with stainless discs and is very easy on the discs, with very low wear.
95 compound – Progressive feel
Its excellent release and moderate initial bite give a more progressive feel. Excellent controllability with a slight torque rise for a more balanced suspension at high corner entry speeds. Virtually fade free with excellent wear rate. 95 compound can be used on either stainless steel or iron discs.
.10 Z-Rated compound – Street applications
PFC's new .10 Z-Rated street compound offers the highest performance for the street for any application. PFC's Z-Rated compound was the first to gain European ECE Regulation 90 approval from any brake manufacturer for motorcycle applications. Excellent and consistent performance in both dry and wet conditions for all riders.
Benefits
IT'S ENVIRONMENTALLY FRIENDLY

– No Asbestos
– No Copper
– No Antimony
– No Lead
– No Cadmium
– No Chromium
– No Potassium Titanate

IT'S DURABLE

– High-temperature strength friction for high thermal stability
– Longer pad and disc life