Reinforcing its position as a leader in the design and manufacture of competition brake systems, PFC Brakes has been chosen as official brake supplier to Renault Sport Technologies for its new Clio R.S. R3T rally car.  Complying with FIA R3 regulations, PFC Brakes' pads, discs and calipers incorporate a number of key innovations, such as piston cap insulators to deliver exceptional performance on tarmac and gravel whilst still achieving the stringent cost and technical requirements set for the category.
With the Clio R.S. 200 EDC's turbocharged 1618cc engine generating more power than the existing R3 car, PFC Brakes' engineers set out to develop a durable brake system to withstand the higher loads and temperatures generated. Innovations, typically found in the highest levels of motorsport were incorporated to deliver the high performance specified.  Examples include piston cap insulators that reduce temperature transfer to the brake fluid by as much as 55˚C thus minimising risk of boiling fluid.  Larger and wider front discs are specified for tarmac to improve heat dissipation, even under increased loads such as those experienced on long tarmac stages.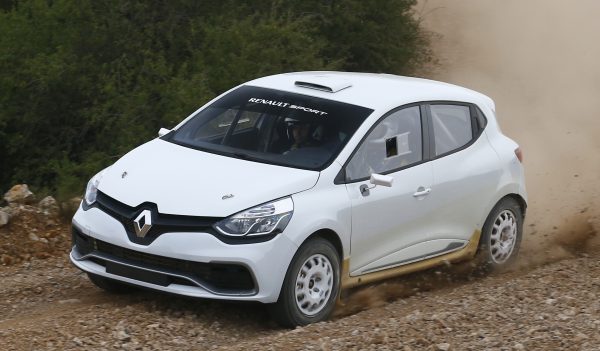 PFC Brakes' engineers specified a derivative of its proven ZR34 caliper; the forged monobloc aluminium caliper offering the best blend of weight and stiffness. Clever design also enabled PFC Brakes to offer a brake pad with a larger radial depth, providing a larger contact area to deliver better stopping power than the standard size typically used by competitors.
Testing across a variety of surfaces led PFC's engineers to determine that due to the wide operating window of its pads, just two PFC compounds can satisfy the demands of drivers of all abilities on all surfaces. Both the chosen compounds deliver improved bite, modulation and release characteristics with the one of the versions offering particular resistance to wheel locking. To enable drivers to use the brakes right from the start of a stage, PFC specified brake pads designed to work at low temperatures and the unique metallic matrix construction ensures consistency for the duration of a stage, further inspiring driver confidence.
The announcement to supply Renault Sport Technologies follows PFC Brakes' selection as official brake partner to Porsche for its Supercup chassis earlier this year. "We are delighted to be nominated by Renault Sport Technologies for such an important car," says PFC Brakes Europe's managing director Peter Babbage. "Together with Renault Sport Technologies, PFC Brakes has created a competitive and affordable rally brake package ideally suited to competitors in the R3 category that will inspire confidence, whatever the surface."