PFC aftermarket brake systems
Click for the latest PFC Brake application list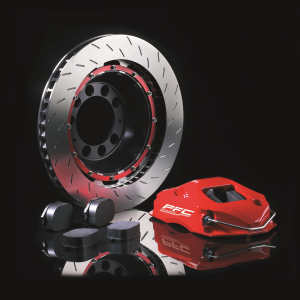 RACE-WORTHY – PFC's road pads are made with the same process and technology as our championship-winning race pads to give you stopping power that's worthy enough for the track.
MOST ADVANCED FRICTION COMPOUND
Carbon Metallic ® delivers more stopping power than any other brake pad
Not a semi-metallic compound
Unique friction material outperforms ceramic and semi-metallic pads in noise and vibration tests
Meets all environmental standards – including newly passed copper limitations
NO COMPROMISES
Carbon Metallic ® brake pads are unique in material and process – made of highly ordered Carbon Crystal structure moulded through high density compression and processed though air craft quality heat treatment. These are not run-of-the-mill brake pads.
BRED FROM THE CIRCUIT, MADE FOR THE ROAD
Pick ups
SUVs
Sports cars
Luxury cars
Taxis
Police cars